Hey everyone, we have some amazing news for you! In collaboration with The Market Place we are offering a face-to-face crisis support service for 11–17 year-olds in Leeds.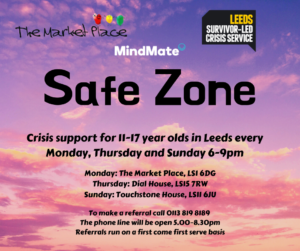 The Market Place have been successfully running this as a pilot programme every Monday. Now we're joining in with the action and together we're taking it to the next level! It'll be open three days a week, across three different locations. Mondays will stay the same at The Market Place, Thursdays will be at Dial House, and Sundays will be at Touchstone House in Beeston.
With Teen Connect's opening hours and age range opening up, mental health support services in Leeds are looking pretty healthy now! It's a wonderful opportunity for us to explore, all the staff are ready and raring to go, their enthusiasm radiates from them right now.
Covid-19's impact
The launch of this has obviously been affected by the Covid-19 pandemic. For the moment, we're obviously having to go for a soft launch, rather than the full-on launch we wanted. And the services that we can offer at the moment are remote and phone-based until this lockdown is over and it's safe to see people in person. So hold on and bear with us while we all get through this together and we'll be here in full style as soon as we can!
But the headline is: Safe Zone is open for business from today Thursday 2nd April!