Leeds COVID-19 Volunteers' Debrief Service
*Note: The service has moved to a call-back service. Please call and leave a message and we will call you back within 24-48 hours [Sept 2020]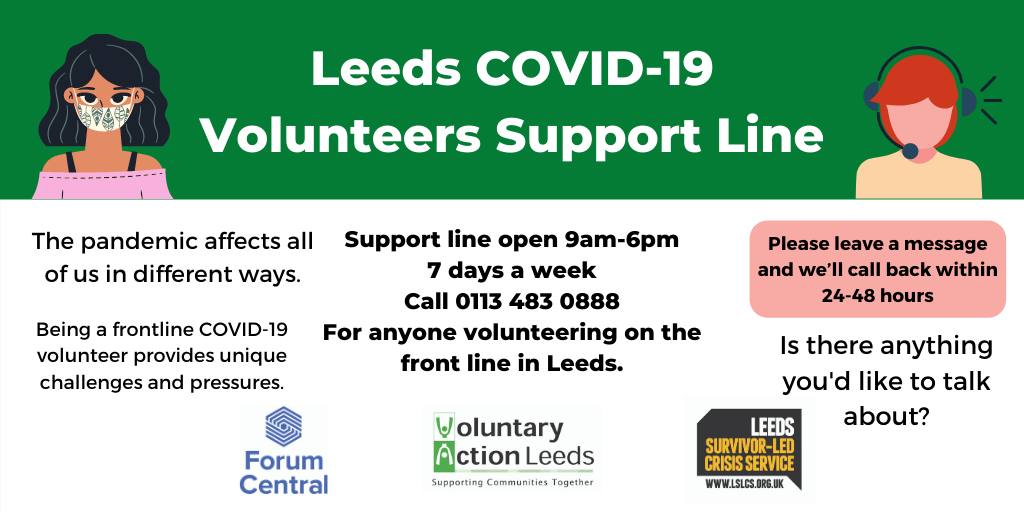 The service provides a listening-ear to frontline COVID-19 volunteers in Leeds since June 2020.
Call 0113 483 0888. You can leave a message and we will call you back.
---
LSLCS is proud to provide a debrief service to front line volunteers in Leeds.
See the "Doing Good Leeds" article here
Download a PDF leaflet to print out
Who is it for?
You volunteer with any organisation to provide support (delivering food, medicines, or emotional support) to the vulnerable and self-isolating persons of Leeds
You don't need to be feeling upset or struggling; it is important to talk and share your experiences with others for self-care and to protect against the long term affects of secondary trauma
Perhaps you have no-one else to share these stories with, or maybe you are even feeling like things are starting to weigh you down.
Maybe you just want to talk to someone about all the great work you've been doing!
This service is for you speak to someone else about your volunteering experience in order for you to feel better. Our service is staffed by trained and supervised volunteers, many of whom are qualified and practising counsellors – so we're used to talking to people and understand that often you just need a good rant.
Want to know more? Here is our podcast where Barry (who has set up this service) is talking to two of the people that are working answering the phones.

For information about the service, please contact Barry Cooper, Dial House Manager: barry.cooper@lslcs.org.uk