Upcoming Events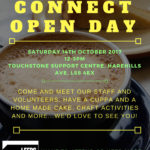 A chance for Connect callers to come and meet some of the staff and volunteers who work on the line in an informal setting and to socialise and meet new people. This will take place on Saturday 14th October at Touchstone Support Centre, Harehills Ave, LS8 4EX between 12-3pm. We will provide drinks and refreshments. For further information or to confirm your attendance please contact theresa.clarke@lslcs.org.uk or call 0113 260 9328.
Jo Cox Loneliness Commission – Loneliness in Refugee and Asylum Seeker Communities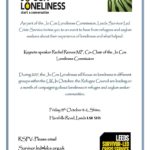 Friday 13th October, Shine, Harehills Rd, LS8 5HS, 11am-2pm.
This event will feature members of the refugee and asylum seeker community in Leeds speaking about their experiences of loneliness and isolation, and what helped them. With keynote speaker Rachel Reeves MP. To attend please call 0113 260 9328 or email survivor.led@lslcs.org.uk